Someone called Aussie Bloke is scaring thousands of people with his theory that a dust cloud and comets or asteroids are on a collision course with Earth. His frequent messages are full of riddles, supposed "evidence", and conspiracy theory accusations which suggest that the governmental "powers that be" know what is about to happen, but don't want the public to know that disaster is just around the corner.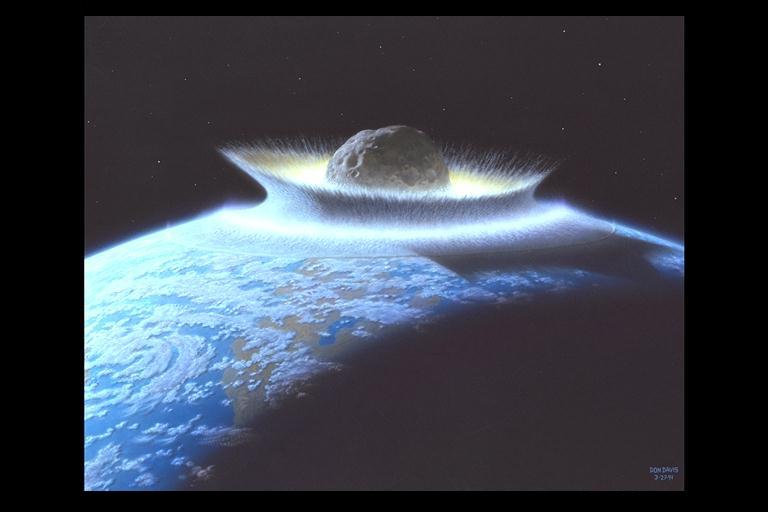 While "Aussie Bloke"'s messages appear to have a air of authenticity, details in his messages suggest that he is not who he claims to be. Recent evidence includes Aussie Bloke's supposed admission of his "true" identity: an astronomer from Australia. We will not reveal that name here because we believe that Aussie Bloke -- whoever he is -- has hijacked the identity of a real Australian astronomer. Independent evidence on the web suggests that (1) the real astronomer has not published in astronomy for over 30 years, and (2) now owns a blueberry farm. We don't want to add to his woes resulting from what we believe is a hoax. Following are some issues that, we believe, invalidate the "end-of-world" claims of "Aussie Bloke".


Orbital Mechanics: He knows the Earth will be hit, but not the exact time?
The Earth travels through space very fast in its circuit around the sun. It moves one Earth diameter every seven minutes or so. In order for someone to "know" the Earth will be hit by an asteroid or comet, they would also have to "know" the time of impact very precisely. Put another way, if an object is on a collision course with Earth, but arrives a few minutes too early or too late -- it misses the Earth. This is why in recent years there have been a few occasions where astronomers have discovered a near-Earth object that is on a possible collision course with the Earth, and then a few days later with new observations and calculations, they find the object will miss the Earth by hundreds of thousands of miles. "Aussie Bloke" claims to know that the Earth will be hit sometime during a few day period in June 2004. Well, if he knows the Earth will be hit, then he also must know the impact time to within minutes. He even claims to know what part of the Earth will be hit -- this is simply not possible. The current technology in astronomy does not allow anyone, weeks in advance (let alone years, as Aussie Bloke suggests), that the Earth is on a collision course with any extraterrestrial body. The observations are simply nowhere near that accurate. Instead, objects that have a slight possibility of crossing the Earth's path in the future are indeed monitored, but uncertainties in their calculated orbits are so large that none can be "known" to be on a collision course with the Earth until they come very close -- maybe a few days away.